UX Australia – Day 2 round-up
My second and final day of UX Australia kicked off in ballroom 3 with Andrea Resmini and Groundhogs in the source code: Navigation as cross-channel sense-making.
Andrea challenged Chris Holmes for the most pop-culture references award pulling Monkey Island, Stan Lee and Dracula into his engaging presentation. We looked at information architecture as a connection of stories and experiences. In a video game, or in the novel Dracula the concept of time is skewed and can jump all over the place but we are anchored by the geography, the spatial relationships. By navigate, we mean understand and having a strong navigation helps pull places into a meaningful narrative and enables cross-channel experiences.
Next Octavia Maddox with One IA for all: Designing an IA for a moving target. Octavia showed off AMP's new social intranet, challenging the UX audience on the value of UX for the enterprise.
There's no denying I have a bias here but I do agree. As Octavia pointed out, underneath the layer of customer experience there is a big engine driving everything. Intranets serve the people who are the engine, without whom the customer experience would suffer.
Key lessons from Octavia's experience were:
Content migration is king
Don't underestimate learned behaviour
Rounding of the morning session Alex Manchester talked about Designing successful enterprise social networks. It was great to have so many talks focused on intranets and enterprise this year. Alex touched on many of the unique nuances of enterprise such as difficulties in bring executives on the journey of seeing value in an internal social network.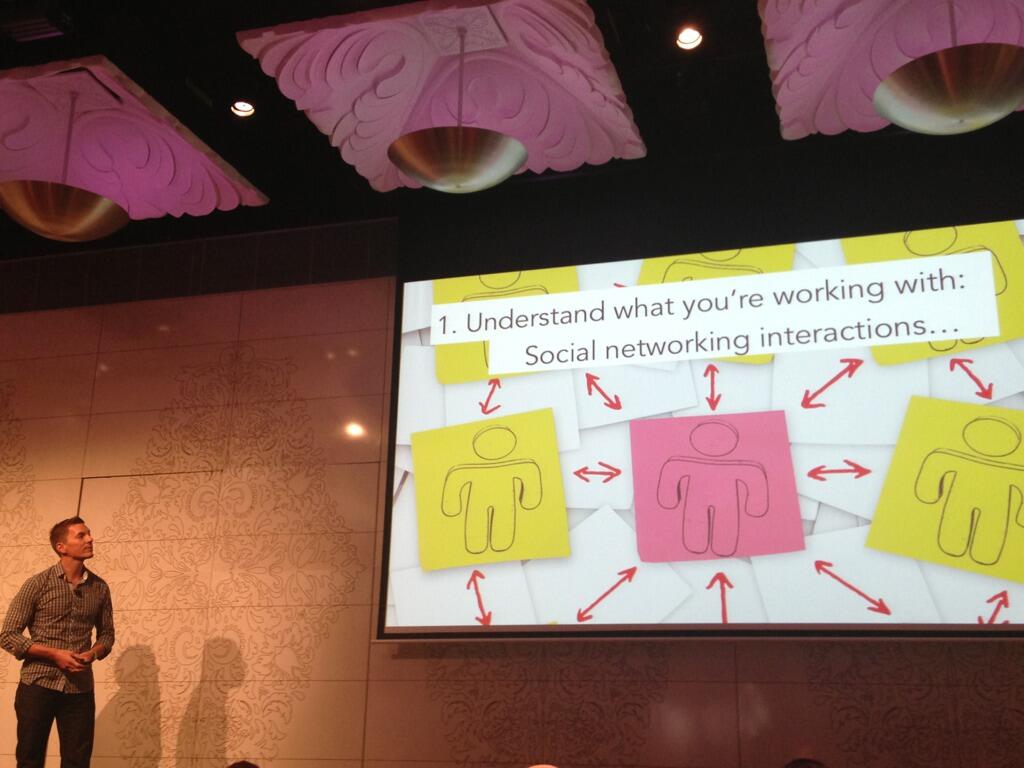 Alex's presentation in summary:
Understand what you're working with
Don't settle for woolly objectives
Recognise cultural gaps
Avoid lethal experimentation
Do real user research
Engage at all levels
Strive for a great experience
After the morning break I went along to Davide 'Foletto' Cassali's presentation on Social experience design: Shifting the focus on motivation and complex systems. David highlighted that a change in perspective is required to manage and understand social systems. He took us through his design process loop (Do, observe, think) and showed examples of successful companies who work on one or more of the motivators of Competition, Excellence, Curiosity and Affection. Social media providers like Facebook and Twitter have been successful by continuously working to provide value along those motivators where as Orkut, MySpace and Friendster failed to do so. Davide presented the social usability checklist, a great tool for organisations to make sure their network is providing value for their users.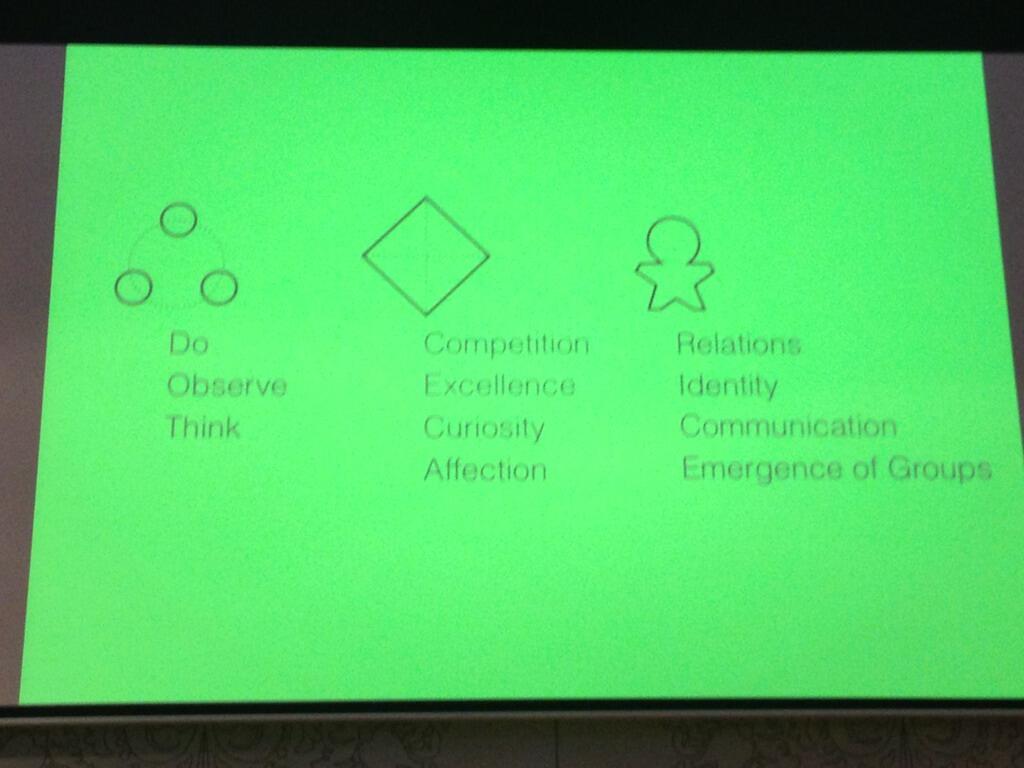 Next up Matt Nish-Lapidus presented New media, interactivity, and 21st century aesthetics. Matt began his brilliant presentation by taking us through what is new media vs old media. Old media being the physical, static, unchanging, non-responsive. New media (Lev Manovich's definition) is:
Numerical representation
Modularity
Automation
Variability
Cultural transcoding
Matt showed numerous examples of new media which dated back from the 60s when artists, designers and developers were manipulating technology to interact with humans. He showed us fascinating installations bu David Rokeby and Steve Mann where we found ourselves looking at what is best described as a retro Kinetc. Taking it a step further he shared the work of Eduardo Kac who is manipulating the genes of plants and animals (think the glow-in-the-dark-bunny), by definition it is new media. Everything is programmable, everything is new media. Mind blown.
After lunch I wanted to check out the Improv's, a new session in this years agenda in which experienced speakers and UXers are given a topic just before they are due to speak and need to talk for 10 minutes to a provided slide set. As you would expect there were a lot of laughs and surprises too.
The improv session may not have delivered the jam packed value of other sessions but they brought the funny and I would certainly go along if they are on the program next year.
Ian Fenn's presentation on Getting UX done had great practical tips for practicing as a user experience designer. The key learnings for me were around considering the different social and learning styles of others and understand that no style is better than another. He also shared Millican's Law a tip from comedian Sarah Millican: When you fail only pine until 11am the next day. When you succeed only gloat about it until 11am the next day. That way you can move on to the next thing (gig) without being held back by the last.
Kevin Hoffman brought us another practical session on Designing meetings for design. The summary of Kevin's presentation and meeting management advice:
Always diverge before you converge
4 roles that make meetings work

Facilitator
Recorder
Group members
Leaders

Visual listening via sketching
Present and design ideas collaboratively
Rather than finish with a locknote presentation there were two great presentations to choose from for the last presentation of UX Australia. I chose to go to Designing services for messy lives with Andy Polaine. Andy suggested that everything is a microinteraction. We need to look at people, relationships and the underlying motivations in order to design better.
As human beings we tend to look at the things and not the space between things. The arrows.
He provided some guiding principles for service design:
Be personal and authentic
Context matters: people have a life beyond the screen
Fail gracefully and recover well
Say sorry, the way you deal with failure makes a difference
Small acts make the difference
This year's UX Australia was great it exceeded my expectations. Thanks to Donna and Steve for another amazing event and for the opportunity to present my 10 minute talk. The speakers were great quality with a range of practical and intellectual presentations. I love the networking opportunities, I get to catch-up with my favourite UX people and meet new ones. I'm already looking forward to next year and hoping I can get along for the Sydney conference… must start brainstorming presentation ideas.
Want more from UX Australia?