Intranet Innovation Awards 2013
It was clear from the weight of the Intranet Innovation Awards report that 2013 has been a fantastic year for intranets. James Robertson of Step Two Designs led us through an 'afternoon of intranet goodness', confirming why judging was such a difficult task this year. It truly is 'an exiting time for intranets'.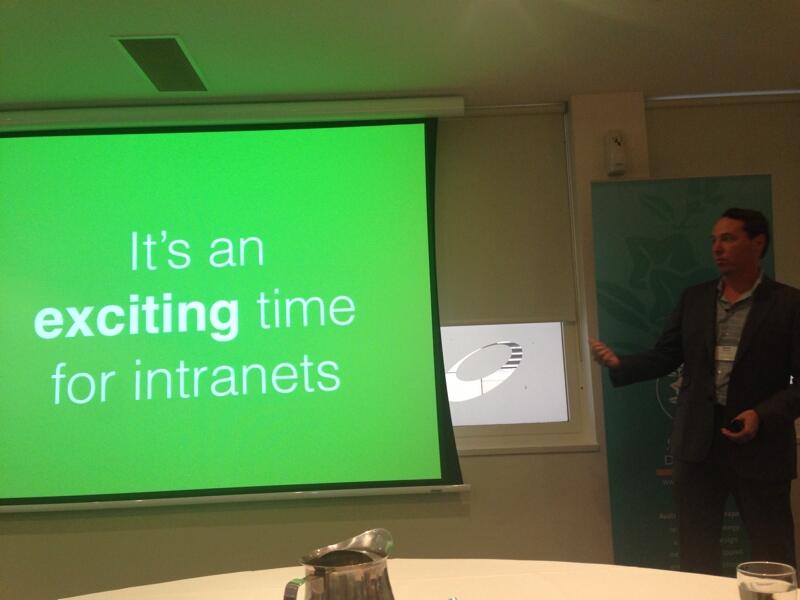 At the Melbourne awards presentation were treated to:
Barclays Bank's mobile intranet for frontline staff. A BYOD offering for their 40,000 staff which has demonstrated excellent return on investment for them. (Platinum Award)
PwC Australia's PwC Online / Spark intranet which used an excellent user centred design methodology to deliver a client-focused intranet. (Gold award: intranet rework)
Mayo Clinic's Department of Nursing who use WordPress to build an intranet to support nursing staff in patient care. (Gold Award: core functionality)
FortisBC, an energy company who created a clever workflow to automate the 1,000 regulatory requests they receive per week. (Gold Award: business and frontline)
Hansen Yuncken's construction project workflow that gave simple yet powerful tools to their staff. (Platinum Award)
AMPs new intranet that puts the social stream front and centre built with user experience at the centre. (Gold award: intranet rework)
Coca Cola Enterprises iconnect with a mobile leave and payslip tool so great that users want the main intranet to be modelled off it. (Gold Award: enterprise mobility)
The highlighted themes for this year are:
Social is now business as usual
The design gap between websites and intranets has closed
Intranets are now core business systems
Mobile experience is having an impact
UX remains critical
The themes about core business and UX really stood out for me in this session and when reading the report a good number of winners had these as one of the reasons they were chosen.
Intranets are now core business systems
It could be argued that intranets have always been core business systems, but what the Innovation Awards shows us is that more intranets are moving beyond the basics of content and document management to become integrated systems supporting critical business processes, a true place for people to go and do their jobs. A vast majority of awards have been given for intranets or features that perform a critical business function or serve a core need.
Fortis BCs workflow for regulatory information requests is possibly my favourite award winner this year. The team uses a Word add-on to split each request into their sub-requests, then those are workflowed to the appropriate business area for answer and approval, then when complete the system pulls it all back together into a Word document to go back to the requestor. How neat! And with 1,000 requests a week imagine headaches and time it has saved.
When we start to incorporate critical business processes that finding tangible measures and demonstrating a return on investment (ROI) becomes an easier process. Barclays Bank have put together a slick mobile offering for their frontline staff which is serving core business and has the numbers to demonstrate a return on that investment (image below). These sorts of numbers are what senior managers love and need to approve the business case for a new intranet or intranet feature.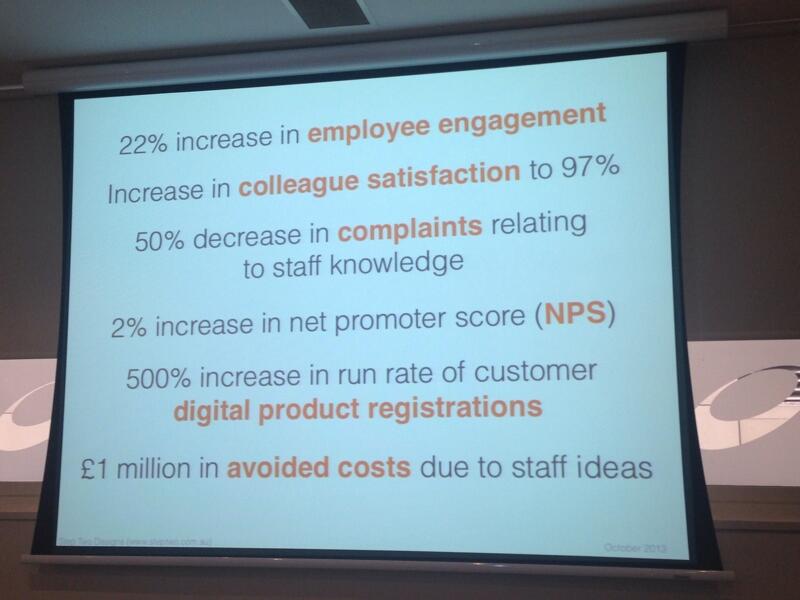 UX remains critical
If we intranet teams are to learn any lesson from the innovation awards it's that keeping user experience at the core of intranet design process pays off. It's not just about winning awards though, successful intranets do UX right. Simon Lillis of PwC Australia spoke about a solid UX design process which included an experience vision, sketching sessions and co-design which led to PwC online and Sparks which supports their projects. It is so successful that it is looking to become the model for their global intranet.
AMP created their bold social intranet with a heap of solid UX work and continue to listen to their staff to make iterative improvements to their offering. While they acknowledge that 8 months on they have had a lot of user feedback and there is some training and education to work through, their social intranet would have been a flop were in not for the grounding in UX design.
The report
This is the second year that I have ordered a copy of the report for my team. If you are redeveloping your intranet, building a business case or making iterative changes to your intranet design the report is the best place to get ideas and to show your leaders how another organisation has implemented them with success.
More on the Intranet Innovation Awards: