Notes from Share the Point: The Australian SharePoint Conference
This week I was fortunate enough to get tickets to attend Share the Point, the Australian SharePoint conference. Thanks upfront to James Dellow who provided me with the opportunity to attend and was unexpectedly unable to attend himself.
Day one kicked of with a keynote of TWO Inspiring stories from Dr Neil Preston and Louis Zulli Jr firmly settling into the conference theme of 'collaboration'. Neil talked about The Psychology of Collaborative Maturity sharing his amazing insights into how we can create the conditions for collaboration in business. Following up closely behind Louis shared the amazing story of his students from Lakewood high school, an extremely talented bunch of teams who have built some fantastic tools for their school using SharePoint.
The lovely Octavia Maddox shared AMP: Designing and Delivering Integrated Experiences that Leverage SharePoint's Potential. AMP have pulled together a gorgeous looking social intranet using SharePoint 2010 heavily based in a solid user centred design approach. The key for me with Octavia's presentation is that AMP have a very innovative culture and supportive CIO that have allowed them to step out and build an intranet where social is core. Not many organisations could jump right in with this sort of intranet and succeed.
James Robertson of StepTwo Designs talked about Great Intranets in the Modern Age. James took us through the Five purposes of intranets: Content, communications, collaboration, culture and activity showing a fabulous array of intranet screen shots. As James himself said the fundamental difficulty of intranets is that they are by nature hidden behind the corporate firewall, conferences are a great opportunity to see and share intranets.
I didn't catch Simon Terry's NAB Yammer Case Study but I have heard all the handy details before so I recommend checking out his presentation.
After lunch I was hoping to check out James Dellow's Applying User Centred Design (UCD) to SharePoint but a last-minute issue meant he could not make it. Luckily he has shared his fabulous slides and rumour has it that he may even pull together a bit of a webinar to take us through it.
Instead I went along to hear the latest on The New Office – Value and Innovation with Paul Dolley and Steve Letford. I was very pleased to hear about some new features in the office suite. Neat little tricks such as a laser pointer, zoom and presentation shortcuts built into PowerPoint. Outlook now letting you know if you have forgotten to attach a document before you send. Probably the most exciting feature is some new Flashfill smarts in excel where Excel 'know's what you want to do when filling cells, like magic!
Craig Brown took us through Collaboration – the Dance of Contribution getting us out of our chairs and taking us through activities to demonstrate the power of collaboration and how to leverage positive feedback loops.
Then I took a leap into the IT Pro stream to hear Bryce Saunders help us with Getting Your Head Around SharePoint Search. Bryce broke down search into three facets:
Do you know if it exists?
Do you know what it is?
Do you know where it is (generally)?
He applied these facets to the numerous search features in SharePoint 2013 demonstrating that there is a feature for every type of search. My takeaway was that I can look at my organisation and our specific search needs and manipulate the search features to give the best result. Taking that straight back to the office.
Day two afforded a bit of a sleep in before I started the day with Yammer – Enterprise Graph and SharePoint Tetsuya Hanada. As well as taking us through Enterprise Graph and answering some questions about the Yammer roadmap for SharePoint (the answer is more integration is coming) Tetsuysa shared Yammer's super cute Munchdog promo video:
In Paul Culmsee and Dr Neil Preston's session Solving Complex ('Wicked') Problems with Emergent Design Practice we got an intro into how dialogue mapping can be used to unpack the organisations shared rationale. I plan to play around with dialogue mapping, such a great way to not only record a group discussion but then to glean the nuggets to inform decision-making. The key to this session was the lack of a model and Paul shared the quote 'All models are wrong but some are useful' George EP Box by way of example. The elements of emergent design practice are:
Understanding the problem
Starting with no model, emergent by nature
Looking at virtue ethic over value ethic

Are we doing it right? (Value)
Are we doing the right thing? (Virtue)

Principles over steps, fon't get confused between the system and the intent of the system
It can be summed up with a Neil-ism: "When meaning triumphs over motivation the change comes for free". Essentially it is about taking things back to the core objective and creating an environment to support and nurture collaboration.
With his Fresh Perspectives on Implementing Governance Andrew Jolly reminded us how important governance is but that organisations still fail to adequately plan or effectively implement it. Key to governance is understanding that the members of your governance team are most likely volunteers and as such have different motivations. Andrew also shared some tips for using SharePoint out of the box Information Management Policy and Expiration Policy to support governance processes without having to mess around with code or third party systems.
Anton Rossouw and Ed Wong presented Why Use Games to Innovate? and shared a pile of engaging activities to use with teams to get and develop ideas before actually taking us through one as a group. Together we played 'Speed Boat' where we identified the 'Anchors', 'Winds' and 'Icebergs' for SharePoint projects.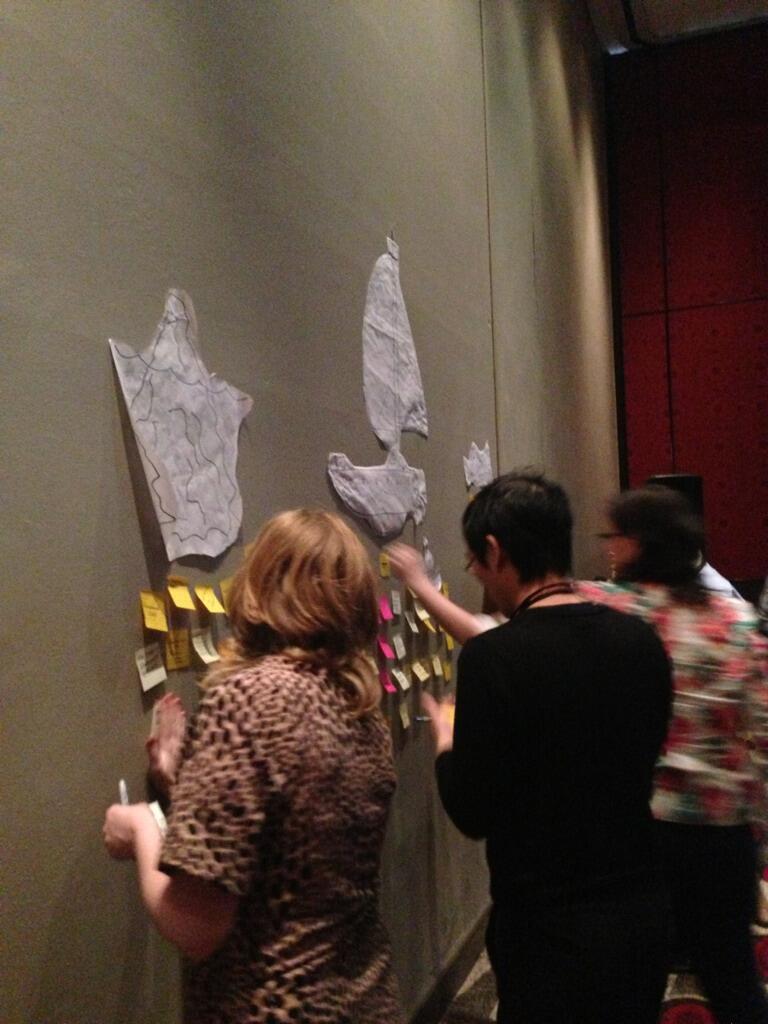 In the last session before the Locknote Kirsty Sinnott talked to us about Creating the Conditions for SharePoint Success in the Public Sector: How Watercorp did it! supported by Paul Culmsee. Assisted by Paul the team at Watercorp took a considered approach to introducing SharePoint by choosing to work with their call centre to create a tool which would support them in answering calls from customers. Choosing the call centre was a great idea as their were clear benefits to be gained in streamlining their work and by focussing on one area they could demonstrate the power of SharePoint without undertaking the colossal exercise of doing their entire intranet at once. Their team worked closely with their internal customer to deliver a solution with some great little features to improve usability. Nice job WaterCorp.
Just before the Locknote Debbie Ireland and the sponsors announced the prize winners and Debbie was kind enough to share my Day 1 sketchnotes with the audience. It is humbling and gratifying when the people I sketchnote actually enjoy what I've created! This conference turned out to be quite a lucky one for me given I was a prize winner in not one, but two competitions on the day! I've never won a conference prize before so was pretty chuffed to take home some noise cancelling headphones thanks to Debbie and the Share the Point crew (for finding SharePoint Sam, or Samantha rather) and an amazing DELL tablet thanks (huge thanks) to DELL. I won the table by answering in 5 words or less why I think SharePoint is great. For the record my answer was something to the effect of "SharePoint has a great breadth of functionality that can be tailored to my organisations needs".
The two days were wrapped up with a Lock note panel on Courageous Conversations. Moderated and dialogue mapped by Paul Culmsee and including on the panel Dr Neil Preston, Mark Rhodes, Dan McPherson, Debbie Ireland and Louis Zulli Jr. who discussed some questions from the audience. Here is my sketchnote of the panel, I will include a link to Paul's dialogue map when Share the Point release it on their site.
I got some great ideas from this conference to improve our own SharePoint implementation, and some that will have to wait until after. I hope to be able to go along next year to get more great ideas to improve our intranet post-launch.
Other perspectives on the Australian SharePoint Conference: