Sketchnotes from TEDxMelbourne Cities2.0
It was apt that Melbourne produced some rare and glorious sunshine when hundreds of Melburnians gathered at Swinburne University to envisage our cities of the future with TEDxMelbourne's Cities2.0. I was very pleased to be invited as a guest of the event to sketchnote the proceedings.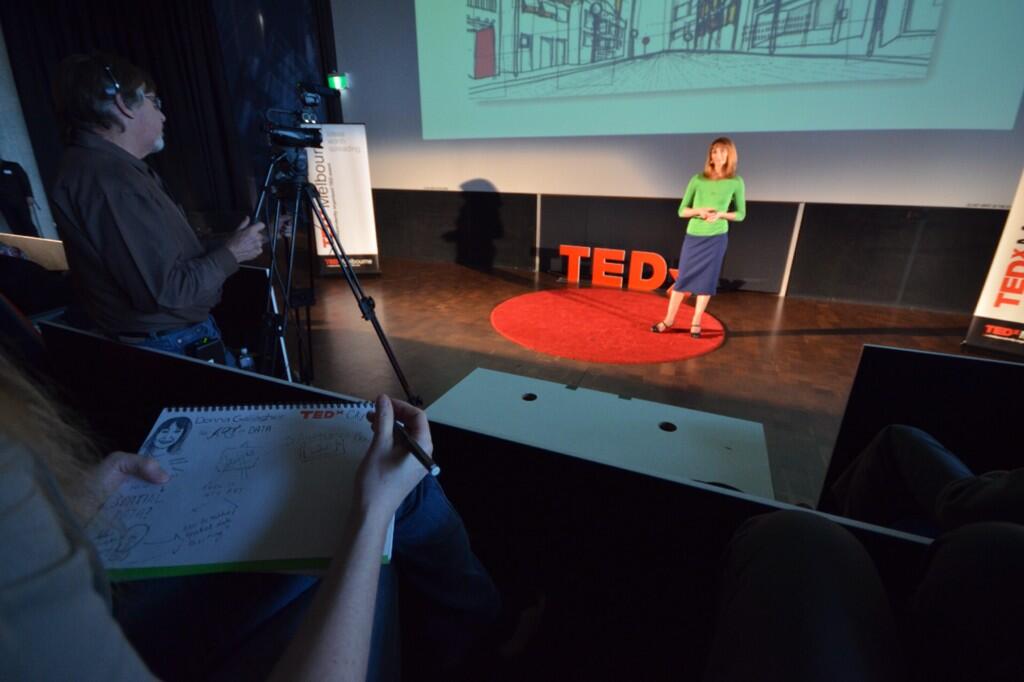 Cities2.0 was a global 48 hour TEDx event with TEDx New York at the centre. After an intro from licensee and curator John Yeo, MC Warwick Merry introduced us to the live stream from New York where we were treated to presentations from:
Janette Sadik-Khan, New York's traffic commissioner who spoke of using small things to make big changes;
Chris Downey, an architect who was thrust into blindness and surprised by the new found depths of cities; and
Robin Nagle, who is fascinated by garbage and encourages others to respect those who manage it for us.
Sadly due to some technical glitches we missed most of Toni Griffin's talk about Detroit. The proceedings are summarised on the TED blog and hopefully they will release the video for all to enjoy.
After the livestream and a lunch break the live talks kicked of with Kate Dundas, a Landscape Architect and Urban Designer from Planisphere sharing her work and inspiring vision for a fresh food city. She turns unused or abandoned urban spaces into food producing gardens.
Greg More from OOM creative followed up with his presentation on 'Data can shape a better city'. His company turns data into visualisations which are not only beautiful but can help show patterns and trends that were otherwise not so apparent.
The last talk of the day was from Donna Gallagher from Whereis Maps who shared her project 'The Art of Data' and her belief that spatial data can be beautiful.
For me there was a common thread through all of the presentations of the day, the connection of people to cities and that in order to continue to make them liveable we need people power to bring life and beauty to the concrete jungle.
Thanks so much to the TEDxMelbourne team for having me along at the event, especially to Jen and Tracey. I had a great time, not just sketchnoting and experiencing the amazing presentations but meeting a heap of people before, during and after the proceedings. Shoutout to Alistair who dragged me away from my comfort zone and helped me meet a bunch of TEDxers.
Want more?